Shelbyville Central High School
Class Of 1971
In Memory
Brenda Woodard (Cole)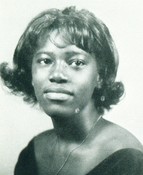 Mrs. Brenda Woodard-Cole, age 59, of Whites Creek, formerly of Shelbyville, died Friday, March 1, 2013, as a result of a an automobile accident.
Funeral Services will be 7 PM Wednesday, March 6, 2013, at Victory Church, 3447 Brick Church Pike, in Nashville, and again 1 PM Thursday, March 6, 2013, at Feldhaus Memorial Chapel. Bishop Kenneth H. Dupree will be eulogist, with burial to follow in Willow Mount Cemetery.
Visitation will be on hour prior to service time.
She was born July 12, 1953, in Shelbyville, to the late Wilson Taylor and Katherine Woodard. She was a Registered Nurse and member of Victory Church.
Survivors include her husband , M. C. Cole, of Whites Creek; a son, Tracy Woodard and two daughters, Trina Woodard and Tressa Woodard, all of Nashville; a brother, Datari Woodard, and two sisters, Vanassa Holman and Tamara Woodard, all of Shelbyville; six grandchildren, Aaron Dement-Woodard, Troi Harris-Nwaigwe, Ortago Thomas II, Shanese Woodard, DiAndre Woodard-Harris, and Diana McDaniel; six great grandchildren, Kissa Harris-Nwaigwe, Kendall Thomas, Saniyah Moody, Hayden Woodard, Kamceonia Nwaigwe, and Kiara Woodard.
Feldhaus Memorial Chapel is assisting the family with the arrangements.