Shelbyville Central High School
Class Of 1971
In Memory
Jerry Stallings VIEW PROFILE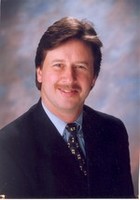 Jerry Wayne Stallings, 55, of Owens Cross Roads passed way Saturday at his home after suffering a heart attack. Originally from Shelbyville, TN, Jerry received his degree in Architecture from the University of Tennessee in 1976. After moving to Huntsville that same year, Jerry quickly became active in the community. As a local architect, Jerry left his creative mark in both Alabama and Tennessee. Currently an independent architect and member of the American Institute of Architects; Jerry was a partner at Jones and Herrin Architects in Huntsville for 20 years. He also served as an officer of the Huntsville Metro Kiwanis Club and attended Rivertree Church in Owens Cross Roads, where he was active for the past seven years.
Jerry is survived by his wife, Suzie Willoughby Stallings and step-daughter Erin Bell of Owens Cross Roads; in-laws G. C. and Carolyn Willoughby and many extended family of Athens, Huntsville, Madison and Navarre Beach, FL; brother, Lynn and his wife, Susan and niece Kayley of Murphreesboro, TN; uncle Dan Farrar and his wife, Vivian also of Murphreesboro; aunt, Thelma S. Edison of Shelbyville; and aunt Marie Crowell of Coffee County, TN and other extended family.
Visitation will be from 5 to 8 p.m. Wednesday at Laughlin Service Funeral Home. The funeral service will be at 11:00 a.m. Thursday at Cove United Methodist Church, Owens Cross Roads, with the Rev. Ross Jeager officiating. Pallbearers will be Tim Erwin, Steve Speelman, Grant Hill, David Bramm, Lynn Stallings, Mike Willoughby, Richard Stone, Randy Anderson, Glynn Cantley, and Brian Terry. Jerry will be peacefully laid to rest at Maple Hill Cemetery.
Jerry was a loving, supportive husband and father, he will be greatly missed in the lives of our family, friends, and by the Huntsville community. We thank God for allowing us to have Jerry in our lives.
In lieu of flowers, the family would appreciate donations to the Huntsville metro Kiwanis Club and Rivertree Church Building Fund.
https://www.findagrave.com/memorial/40377049/jerry-wayne-stallings
Click here to see Jerry's last Profile entry.