Shelbyville Central High School
Class Of 1971
In Memory
Mike Stewart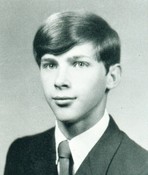 In Memory of
Michael Anthony
Stewart
Obituary for Michael Stewart
Michael Anthony Stewart, 59, of Pensacola, passed away on November 7, 2012.
Michael was born in East St. Louis, IL and later settled in Pensacola, FL.
He touched many lives as a rural route mail carrier with the US Postal Service. He made many lasting relationships because of his caring personality.
Michael is survived by his loving wife, Becky; children, Mike Stewart, Lisa Gibbons, Tim Andros, Stephen Andros, Elizabeth Ashley, and Anthony Stewart; 11 grandchildren; 1 great-granddaughter; brother, Keith Stewart; and sister, Belinda Craig.
Trahan Family Funeral Home is in charge of arrangements.
Visitation will be Monday, 6:00 to 8:00 p.m. at the funeral home. Funeral Will be Tuesday at 10:00, also at the funeral home. Burial to follow at Barrancas National Cemetery.

https://www.findagrave.com/memorial/100479411/michael-anthony-stewart