Shelbyville Central High School
Class Of 1971
In Memory
Karl McCoy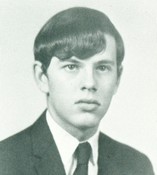 Karl K. McCoy Sr.
(July 29, 1952 - February 2, 2013)
Mr. Karl K. McCoy Sr. 60 of Shelbyville died Saturday, February 2nd, at his home after an extended illness. He was former employee of National Pen; a member of Horse Mountain Church of Christ and a Veteran of the U.S.Navy.
He was the son of Johnnie Myrtle Ford McCoy of Shelbyville and the late Elmer Marshall McCoy Sr. In addition to his mother he is survived by a son, Karl K. McCoy Jr.; daughter, Vicky Adcock of Shelbyville; sister, Beverly (Albert) Troxler of Wartrace; brother, Elmer M. (Lorraine) McCoy Jr. of LaGrange, Georgia and seven Grandchildren.
Funeral Services will be held 11:00 A.M. Tuesday, February 5th, at Hillcrest Funeral Home Mark Pierce officiating. Burial will follow at Hillcrest Memorial Gardens. Visitation will be Monday evening from 4:00 P.M. to 8:00 P.M.
https://www.findagrave.com/memorial/198727458/karl-k-mckoy